In recent years, the rise of social media has transformed the way we think about food. With millions of people scrolling through their feeds every day, Instagram and TikTok have become go-to platforms for foodies seeking inspiration, recommendations, and entertainment. This has led to the emergence of food influencers: creators who inspire us with their culinary skills, recipes, and restaurant reviews.
In this article, we'll explore the world of food influencers, share a list of the biggest food influencers on Instagram and TikTok, and give you some tips on how to find the right influencers for your brand 👇🏼
Find relevant
influencers in seconds.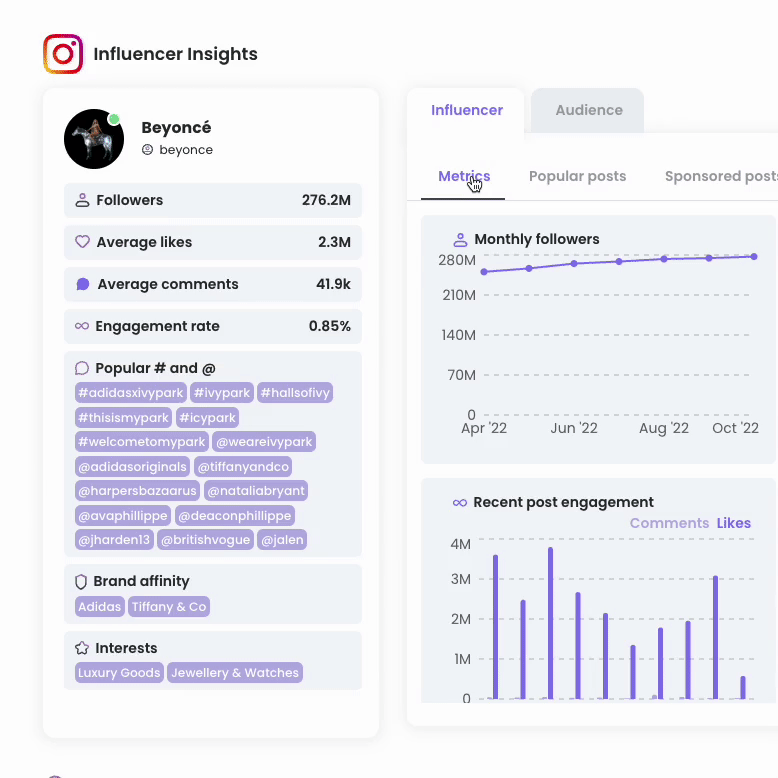 Gordon Ramsey is one of the biggest food influencers in the world
📝  Your full guide to finding food influencers
When it comes to finding influencers, there are generally two methods: manual searching on social media platforms or utilizing influencer marketing tools. Regardless of which approach you choose, there are some helpful tips to keep in mind!
a. Searching on Google
The most straightforward way to find influencers is by searching on Google – you've probably already tried that! You can search for keywords like food influencers, food bloggers, Indian food influencers or healthy food blogs. The more specific your search term is, the better results you'll get!
b. Searching manually on social media
The easiest way to find niche influencers on Instagram is by searching by hashtags. You can start with searching for different food-related hashtags, such as #foodblogger, #foodgram, #foodblog, and #foodie. Additionally, you can search by keywords – try food blogger, recipe blogger, or just food.
Once you've found an influencer you'd like to work with, you can also check similar profiles: click on the little 🔽 button next to the "Message" button on their profile when on mobile or the little arrow button next to "Follow" when on desktop. This way, you will see a list of similar creators you might fancy!
Similar Instagram users to @boity
🤍  Some tips for searching for food tiktokers:
When it comes to manually finding influencers on TikTok, the search process is the same: you can search by hashtags, keywords, and phrases.
When you're on the phone, you can also set filters for the search. If you're looking for influencers, select "Users" in the top menu – and use the filters to see profiles with over 10,000 or 100,000 followers. You can also set the profile type to "verified" to see celebrities and international companies. In the desktop version, the filtering options are limited.
🤍  Some tips for searching on YouTube:
When you're looking for food influencers on YouTube, you can search for food-related keywords, filtering results by view count and upload date to find the most popular and recent content.You can also use search filters to narrow down your search by location, language, and other criteria.
3. Use influencer search tools to save time
The easiest way to discover fresh food influencers is by using influencer search tools. Not only will it save you a significant amount of time – but you'll also get a comprehensive list of relevant influencers!
Promoty is one of the influencer search and analytics tools. We have a database of 190 million social media influencers worldwide. By utilizing filters such as interests, location, social media metrics, audience demographics, or other criteria, you can quickly find influencers that align with your brand's values and messaging. This way, you can find relevant influencers in minutes!
If you're looking for food influencers, you can set the Interests field to "Restaurants, Food & Grocery" – or use the keyword search. Additionally, you can filter influencers by age, gender, location, language, audience demographics, and other criteria.
For every influencer, you can also see their engagement rate, average likes, audience demographics (age, location, gender), brand affinity, most-used hashtags, followers' credibility, previous sponsored posts, followers' growth over time, similar profiles, and much more. Here's what it looks like:
To sum it up: the best ways to find food influencers on social media
In general, there are two main approaches to finding relevant food influencers. Firstly, you can run a manual search on social media by utilizing keywords, hashtags, and profiles similar – but that might be imprecise and heavily time-consuming. Instead, we recommend using our influencer search tool – that helps you to find the right influencers in seconds! 
Learn more and create a free account to try it out yourself: