→  Influencer analytics tool
Get a detailed
profile report for every influencer worldwide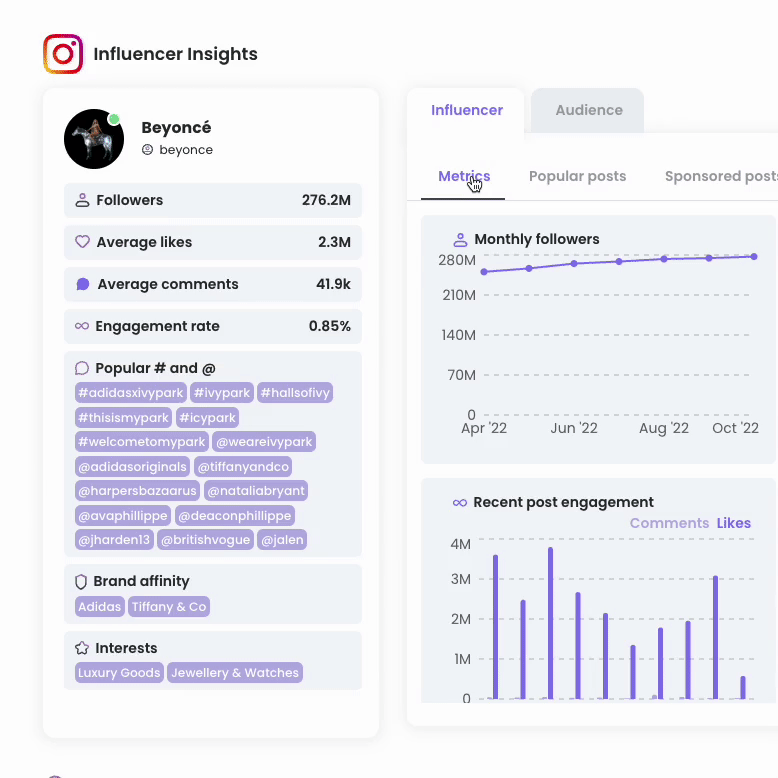 → 
Social media analytics
For every influencer, you can see their social media analytics: follower count, average likes, engagement rate, follower growth, etc.
→  Brand affinity, hashtags and mentions
We'll provide you with a list of the most-used hashtags, mentions, and brand affinity for influencers with at least 2,000 followers.
→ 
Influencer audience demographics
See every creator's follower demographics by country, city, age, and gender – to find the influencers whose audience matches your target group.
→ 
Influencer credibility
Our smart system gives you influencers' followers' and likers' credibility scores – so you can exclude fake influencers from your influencer campaigns.
Find relevant influencers – and easily confirm them with your team.
Create a free account to get started. No credit card information required.
→  Interests and b
rand affinity
See influencers' interests and brand affinity, as well as their followers' and likers' interests and brand affinity.
→ 
Similar profiles and notable followers
Found an influencer you fancy? Check their similar profiles, profiles with a similar audience, notable followers, and notable likers.
→ 
Popular posts & sponsored posts
Top posts and previous collaborations help you to make sure that they haven't worked with competitors.
Also, it says quite a lot about your potential collab: the photo quality you can expect, the captions they write, and their audience engagement with sponsored posts.
→ 
Notes, labels, and team comments
Add a creator to influencer CRM to enrich every profile with notes, labels, and team comments.
That helps you to remember meaningful details – such as their birthdays and preferences. After all, influencer marketing is all about relationships 🤍
© 2023 Promoty Marketing OÜ. All rights reserved.