Finding the right African influencers for your brand can be quite a challenge – it's such a fast-growing market! To make it easier for you, we have compiled a list of the most popular Instagram and TikTok influencers in every African country – together with guidelines on how to find them!
The biggest African influencers on Instagram
One of the biggest African influencers on Instagram is Boitumelo Thulo (@boity) with 5,8M followers. She is an entrepreneur (also listed in "30 under 30" by Forbes), television personality, musician, actress, model, and social media creator. Here are the lists of the biggest influencers in some African countries:
Find influencers in every African country.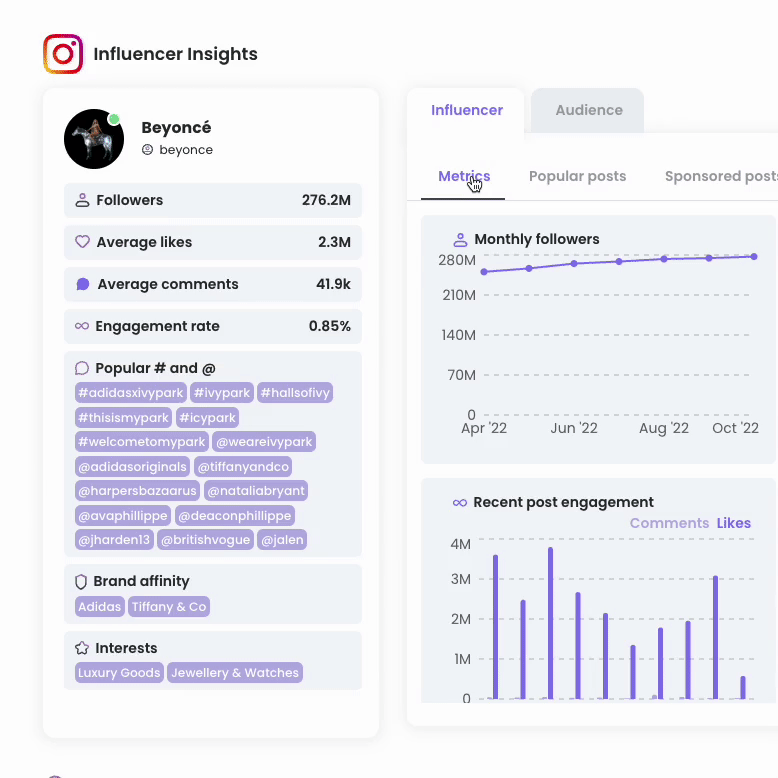 📝  Your guide to finding influencers in Africa
In general, there are two ways to find influencers on social media: searching for influencers manually or using an influencer search tool. Here are some tips for both!
1. Searching on Google and YouTube
One of the most straightforward ways to find influencers is searching on Google – you've probably already tried that! You can go with keywords like African bloggers, South African influencers, or African YouTuber. If you're looking for niche influencers, add keywords related to your industry or niche. 
2. Searching on Instagram
There are three ways for finding influencers on Instagram: relevant hashtags, locations, or similar profiles. Let's go through all of them briefly!
▸ By relevant hashtags
You can find potential influencers using hashtags: make sure to check relevant hashtags like #africaninfluencer and #africanblogger, and hashtags containing cities – such as #capetownblogger. If you're looking for niche influencers, try hashtags like #africanfashionblogger.
▸ By location 📍
When influencers post on Instagram, most also add the location to get a higher reach. That's why it's wise to search for different places in Africa: you can start with countries and bigger cities, and move on with bars, cafeterias, restaurants, and other places that influencers might go to.
▸ Similar profiles
When you've found an Instagram influencer that you'd like to work with, you can check profiles that are similar to theirs: click on the little 🔽 button next to the "Message" button on their profile when on mobile or the little arrow button next to "Follow" when on desktop. This way, you will see a list of similar influencers you might want to work with!
Similar Instagram users to @boity
3. Searching on TikTok
When it comes to manually finding influencers on TikTok, the search process is the same: you can search by hashtags, keywords, and phrases.
When you're on the phone, you can also set filters for the search. If you're looking for influencers, select "Users" in the top menu – and use the filters to see profiles with over 10,000 or 100,000 followers. You can also set the profile type to "verified" to see celebrities and international companies. In the desktop version, the filtering options are limited.
4. Using influencer search tools
Searching social media influencers manually is extremely time-consuming: when we started Promoty, it took us over 40 hours to find the first 100 Instagram influencers for our campaign! Thus, we recommend using influencer search tools to save time and get more relevant search results.
Promoty is one of them: our Influencer Discovery makes finding Instagram, TikTok, and YouTube influencers a lot faster and easier. We have a global influencer database that you can filter by influencers' location, audience location, age and gender; interests, brand affinity, and other criteria.
For example, if you were searching for South African TikTok influencers, it would look like this:
If you're searching for Africa-based influencers, you can set the influencer's location to Africa (or any specific country or city). If you're searching for bloggers with a African audience, you can filter our global database by the influencer's audience.
Additionally, you can narrow your search by the influencer's followers, age, interests, and other criteria. For example, if you're looking for makeup tutorials, men's style, party themes, or free printables, write that in the Keyword in bio filter. If your brand's target audience is 25-34 yo women, set the Audience filters accordingly. That helps you to find exactly the right influencers 🤍
For every Instagram and TikTok influencer, you can also see their engagement rate, average likes, audience demographics (age, location, gender), brand affinity, most-used hashtags, followers' credibility, previous sponsored posts, followers' growth over time, similar profiles, and much more.
Here's what the Instagram account report looks like! 👇🏼
To sum it up: the best ways to find African influencers
To sum it up: Africa is an amazing continent with rich pop culture and outstanding social media creators. You can try searching for influencers manually – but using influencer search tools will probably you save hundreds of hours of work 🙌🏼 Create a free account to try it out!