Find relevant
influencers in seconds.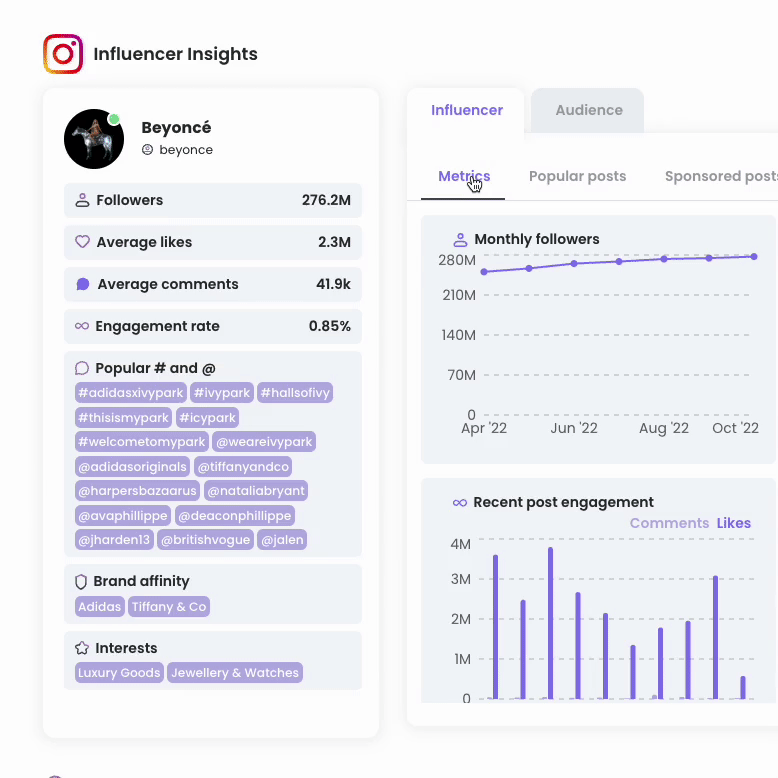 📝  Your guide to finding influencers in the Netherlands
In general, there are two ways to find social media influences: searching for influencers manually or using an influencer search tool. Here are some tips for both strategies!
1. Manually finding influencers on Instagram
There are three ways for finding Instagram influencers: from your customer base, manually on Instagram, or using an influencer marketing platform. Regarding the second option, influencers can be searched by relevant hashtags, locations, or similar profiles.
a) By relevant hashtags
You can find potential influencers using hashtags: make sure to check relevant hashtags both in English and Dutch. For example, you can check hashtags like #dutchinfluencer and #dutchblogger, hashtags containing cities (such as #amsterdaminfluencer), and hashtags in Dutch.
b) By location 📍
When influencers post on Instagram, most of them also add the location in order to get a higher reach. That's why it's smart to search for different locations in the Netherlands!
If you're looking for Instagram influencers in the Netherlands, it'd be smart to check bigger cities like Amsterdam, Rotterdam, and Den Haag.  This is particularly useful if you are looking to scale an influencer marketing campaign in a specific city.
c) Similar profiles
When you've found an Instagram influencer that you'd like to work with, you can check profiles that are similar to theirs: click on the little 🔽 button next to the "Message" button on their profile when on mobile or the little arrow button next to "Follow" when on desktop. This way, you will see a list of similar influencers you might want to work with!
2. Searching for influencers on TikTok
When it comes to manually searching for influencers on TikTok, the search process is the same: you can search by hashtags, keywords, and locations.
When you're on the phone, you can also set filters for the search. If you're looking for influencers, select "Users" in the top menu – and use the filters to see profiles with over 10,000 or 100,000 followers. You can also set the profile type to "verified" to see celebrities and international companies. 
3. Using influencer search tools
As finding bloggers manually might be very time-consuming, we'd recommend using an influencer search tool – such as Promoty! Our Influencer Discovery gives you access to our global database of Instagram, TikTok and YouTube influencers with a wide set of filters.
If you're searching for influencers based in the Netherlands, you can set the influencer's location to the Netherlands. Additionally, you can narrow your search by the influencer's followers, age, interests, and other criteria.
If you're searching for influencers with a Dutch audience, you can filter our global database by the influencer's audience. This way, you'll find collaboration partners whose audience matches your target group!
For every Instagram, TikTok and YouTube influencer, you can also see their Instagram statistics, audience demographics, followers' credibility, notable followers, similar profiles, and much more. These key features will help you determine whether or not an influencer is worth the brand investment. Here's what the influencer insights report looks like! 👇🏼
British blogger @zoesugg's Instagram profile on Promoty
Summary: the best ways to find Dutch creators
You can try searching for Dutch social media influencers manually – but using influencer search tools will probably you will save hundreds of hours of work 🙌🏼 Create a free account to get access!