← Find influencers in other European countries​
Poland is a rapidly growing market for influencer marketing. With a population of almost 38 million people¹ and a highly engaged social media audience, Polish influencers have become a sought-after commodity for brands looking to expand their reach in the region.
In this article, we will explore the landscape of Polish influencers, share a list of the biggest Polish influencers, and give you a detailed guide on how to find the right influencers for your brand 👇🏼
The state of influencer marketing in Poland
Polish influencers have seen a significant increase in popularity in recent years, with many achieving millions of followers on social media platforms such as Instagram, YouTube, and TikTok. The main reason for this is the growing interest in social media and digital content consumption among the Polish population.
According to a report by Hootsuite, in 2020, there were over 25 million active social media users in Poland, which is almost 66% of the population. The report also highlighted that Instagram and YouTube were the most popular platforms among Polish social media users.
The biggest influencers in Poland
Find relevant
influencers in seconds.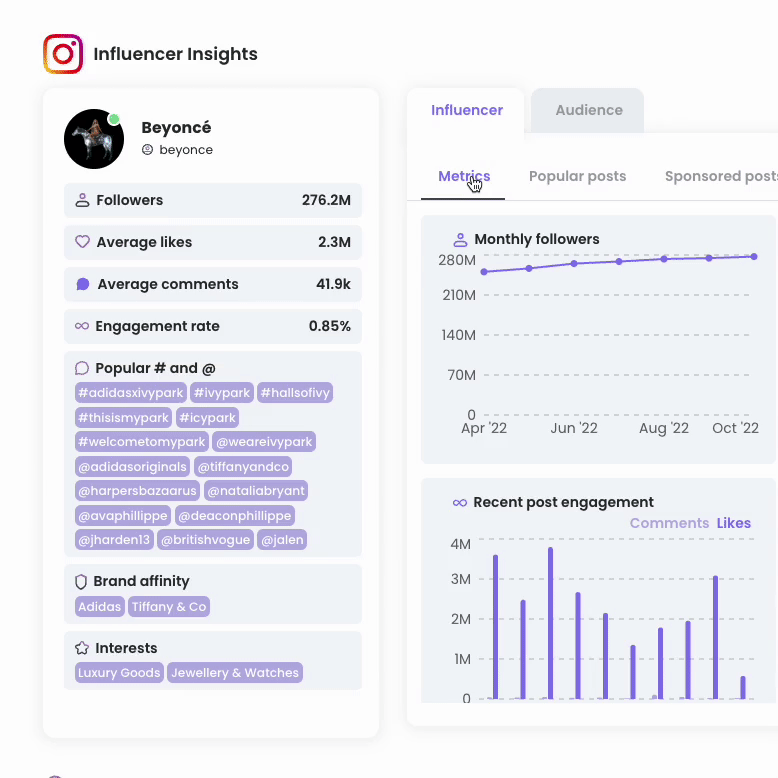 Anna Lewandowska is the biggest Instagram influencer in Poland
📝  Your full guide to finding the right Polish influencers
In general, there are two ways to find relevant influencers: searching manually on social media or using an influencer search tool. Here are some tips for both approaches!
1. Searching on Google
The most straightforward way to find influencers is by searching on Google – you've probably already tried that! You can search for keywords like bloggers in Poland, fitness influencers in Poland, or Polish mom influencers. The more specific your search term is, the better results you'll get!
2. Searching manually on social media
The easiest way to find influencers on Instagram is by searching by hashtags and keywords: make sure to check relevant hashtags like #poland, #polishinfluencer, and #polishblogger. In case you're looking for niche influencers, use niche hashtags like #polishfashion.
Additionally, make sure to check locations like Warsaw, Kraków, Łódź, Wrocław, Poznań, Gdańsk, Szczecin, Bydgoszcz, Lublin, and Białystok. You can also check local sights, restaurants, cafes, and other places that influencers might go to.
Once you've found an influencer you'd like to work with, you can check profiles that are similar to theirs: click on the little 🔽 button next to the "Message" button on their profile when on mobile or the little arrow button next to "Follow" when on desktop. This way, you will see a list of similar influencers you might want to work with!
Similar Instagram users to @boity
When it comes to manually finding influencers on TikTok, the search process is the same: you can search by hashtags, keywords, and phrases. Try "Poland" and "Polish", for example!
When you're on the phone, you can also set filters for the search. If you're looking for influencers, select "Users" in the top menu – and use the filters to see profiles with over 10,000 or 100,000 followers. You can also set the profile type to "verified" to see celebrities and international companies. In the desktop version, the filtering options are limited.
3. Using an influencer search tool
Another option for finding influencers would be using an influencer search tool: it's a huge time of save of time and helps you find much more relevant influencers in minutes.
Promoty is one of them: we have a global database with 190 million social media influencers. By filtering the database by influencers' interests, location, social media data, audience demographics, or other criteria, you can find exactly the right influencers for your brand.
If you're looking for Poland-based influencers, you can set the Location field to "Poland" or any relevant city – or use the keyword search as many influencers list their location in their bio.
If you're looking for influencers with an audience from Poland, set the Audience Location field to "Poland". Additionally, you can filter influencers by age, gender, location, language, audience demographics, and other criteria.
For every influencer, you can also see their engagement rate, average likes, audience demographics (age, location, gender), brand affinity, most-used hashtags, followers' credibility, previous sponsored posts, followers' growth over time, similar profiles, and much more. Here's what it looks like:
To sum it up: the best ways to find Polish influencers for your brand
In general, there are two main approaches to discovering relevant influencers in Poland. Firstly, you can run a manual search on social media by utilizing keywords, hashtags, and profiles similar. We recommend the latter: using our influencer search, you can find the right influencers in seconds.
Learn more or create a free account to test it out yourself! 👇🏼